2

Designing an Open Pedagogy Project

Kathy Essmiller
This chapter will be helpful for those who like the idea of engaging students in learning experiences which have impact beyond the classroom and are curious about how to facilitate them. The image below gives a quick overview of steps it might be helpful to think through when designing experiences incorporating open pedagogy.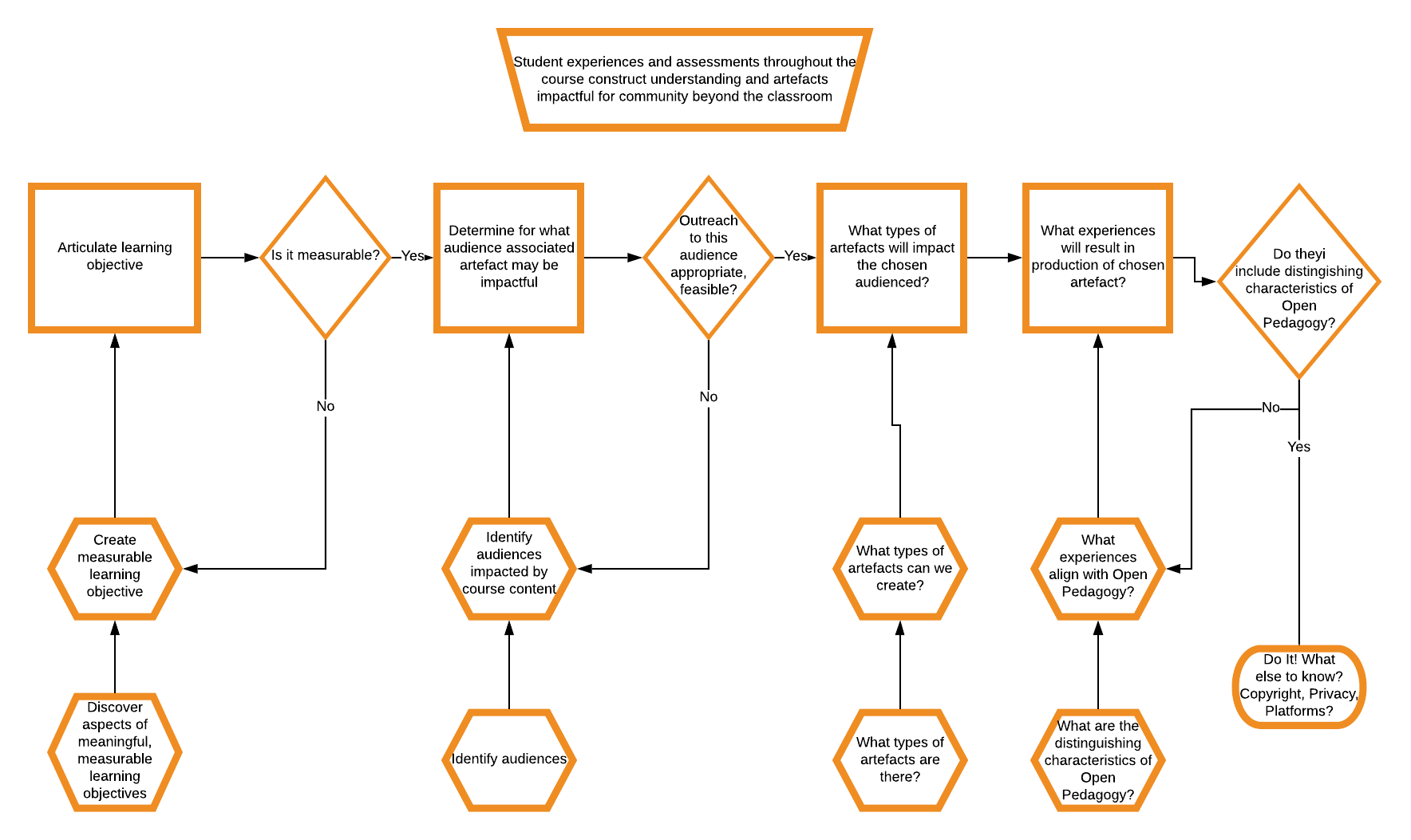 The quickest way to understand the flow chart is to work across the top row, left to right. The diamonds represent decision points; if your answer is no, considering the preparation steps below the rectangle in the top row might provide clarification. The following sections dig a bit deeper.
Articulate Learning Objective
Whether intentionally or not, you most likely already incorporate this step into your teaching. One way to consider the learning objective is in terms of what the learning experience will guide learners to be able to know, understand, and do. Including the means through which you will be able to identify to what degree students have achieved the learning objective will help you develop the Open Pedagogy learning experience.
For instance, I might begin this learning experience with the learning objective below.
Faculty and instructors will demonstrate their understanding of how to articulate a measurable learning objective by correctly answering 90% of the questions on the quiz.
The objective states the goal, which is articulation of a measurable learning objective. It also indicates a quiz as the means through which faculty and instructors will demonstrate their achievement of the goal. As I review the learning objective, I might decide that although a quiz does provide easily quantifiable information, it might not provide the opportunity for students to engage with the community beyond the classroom. How could achievement of this objective be demonstrated in a way which could be impactful for community beyond the classroom?
If you like, engage this question on Twitter, using the hashtags #openeducation or #openpedagogy to share it with others exploring this topic. You might find yourself following the hashtag to find additional ideas, and others will be thankful for the opportunity to see your work.
Some suggestions might include development of an infographic or comic strip teaching others how to write a learning objective, creation of a how-to video which incorporates a learning objective, ("Today I will show you how to make a perfect cup of coffee. By the end of this video, you should be sipping from your own perfectly brewed cup of coffee") . . . let your mind wander. Your own subject matter will foster stronger ideas.
Go ahead and let that mental space sit empty if you still can't quite come up with a way to create a learning objective which is both measurable and will support student engagement with community beyond the classroom. You are an expert in your subject matter, you know how to teach it, and even more importantly you know the students who take your course. Keep reading, you will imagine the perfect way to accomplish it!
Decision Point
Let's answer 'yes' to the question of whether or not the learning objective is measurable, and move on. Do have in mind something you would like for your students to be able to know, understand, or do. We can come back to fill in the rest of the blanks.
Determine an Audience
The actual wording of this step is "Determine for what audience the associated artifact may be impactful". If you haven't yet determined the measurable half of your learning objective, the next couple of questions might help get you there. Consider communities that could benefit from experiences associated with your subject area. If you are still drawing a blank, zoom out even farther and identify potential audiences, in general, whether they would benefit from interaction with your subject area or not. Explore and contribute to the Padlet below. What pockets of the community might constitute an audience? Feel free to mention links you see, even for others, between content area and audience. For instance, one audience in the community for whom knowing how to construct measurable learning objectives could be helpful is activities directors in assisted living facilities. Okay, now you try!
If you prefer you may access the padlet at https://padlet.com/kathyessmiller/gxrezuxcoope or by following the QR code below.

How might our Padlet be considered an artifact impactful for community beyond the classroom? Can you think of an audience our work together could benefit? How could we share it with them?
So far I have the first part of my learning objective, faculty and instructors will demonstrate their understanding of how to articulate a measurable learning objective. I am still imagining how I want to measure it with something my students to create that will impact the community beyond the classroom. I have selected activities directors at assisted living facilities as an audience I think this content might benefit. At this decision point, I stop to consider whether or not outreach to this audience is appropriate and feasible. I do think outreach to that audience is appropriate, and while it may not be feasible for me to try to reach all of the activities directors in my community, it is definitely feasible for me to make contact with at least one.
Decision Point
Where are you in your process? Have you determined an audience for your students' work? If it's helpful, browse back through the Padlet above, perhaps helping your colleagues assess the appropriateness and feasibility of the suggested audiences.
What Types of Artifacts
Once you have identified a potential audience, consider what types of artifacts they will find most impactful. Activities directors would probably not be greatly impacted if I shared a thousand word essay with them, but they might appreciate my creating a template which provided explanation as needed, or a 'how-to' on a digital platform such as Genial.ly. I could even meet with one or two of them face to face to collaborate on an activity plan for the residents, perhaps then blogging about our experience together.
Let's ease into this step. First, let's turn to the community to discover what types of artifacts others in Open Pedagogy have used. The link below will take you to the Open Pedagogy Twitter hashtag, or use your favorite social media platform or browser to search #OpenPedagogy. Scroll through and see if you find any ideas.
https://twitter.com/hashtag/OpenPedagogy
Although many Open Pedagogy projects are rooted in the digital networking capability of online platforms, non-digital work can also be impactful beyond the classroom. Consider products such as zines, face to face presentations, sidewalk chalk . . . what else comes to mind? Click through the scrumblr link below to share and to see what your colleagues have come up with. It is a digital product, but might bring to mind some non-digital solutions.
http://w.scrumblr.ca/Non-Digital%20Possibilities
What Experiences Will Result
This question helps you evaluate whether the choices you have made so far will achieve the hopes and dreams we discussed at the beginning of our time together. What do you consider some of the distinguishing characteristics of Open Pedagogy? What types of experiences align with Open Pedagogy? Are those the types of experiences your instructional design will facilitate? We have experimented with several platforms, but let's return to FlipGrid for this reflection. Share your thoughts, and comment on your colleagues' reflections to help them process through theirs. The grid is set to allow five minute recordings, but you can make as many recordings as you like as you come to your ideas.
As in the previous chapter, click into the Flipgrid below using the password GoPokes! and share your reflection. Feel free to be informal and chatty, we are exploring together. The FlipGrid is set to public, which means that anyone with the Flip Code can join and view videos on the grid. You can join with a Microsoft or Google account. If you prefer not to use a personal account, you may log in with the OpenOkstate Google Account.
Don't want to use your personal account? Sign in as OpenOKState. The OpenOKState email is
OpenOKState@gmail.com
, and the password is GoPokes! The password to enter the FlipGrid space is also GoPokes! You may also access the FlipGrid at
https://flipgrid.com/20d0bb4b
or by following the QR code below the Flipgrid embed.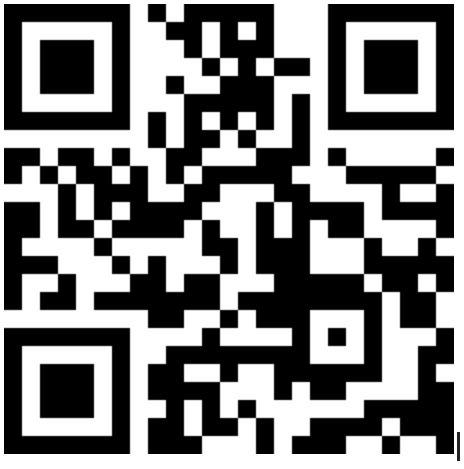 Once you have shared your reflection, give yourself time to listen to what your colleagues have to say. Feel free to respond if you hear something that you agree with, something that surprises you, or even something you would like to push back on a bit.
Decision Point
What do you think? Do the experiences your project facilitates include what we have come to understand as distinguishing characteristics of Open Pedagogy? If so, do it! Share a link to your work in progress in this public Google Doc, if you like, so we can step into community to celebrate and strengthen each other's work.
All original material in this chapter by Kathy Essmiller is licensed CC-BY, as indicated in the chapter licensing data. Links retain their original copyright, and unless specifically licensed otherwise, comments and work shared by those interacting with the material retain full copyright. Contact me at kathy.essmiller@okstate.edu if you need information to contact one of the creators for permission to use their work. Thank you! ~KE