Who Teaches Writing?
Oklahoma State University Libraries
Stillwater, OK
Welcome to First-Year Writing (FYW) at Oklahoma State University. FYW is a university-wide effort comprised of various stakeholders across campus, including the First-Year Composition courses you take (English 1113/1313 and 1213/1413), The University Writing Center, the Edmon Low Library, the OpenOkState Fellows Program, and many different graduate programs which train and supply those writing instructors who teach your courses. In addition to teaching you the writing practices and concepts you will need to succeed in FYC, this textbook will introduce you to many of these stakeholders and their investments in writing within and outside of Oklahoma State University.
First-Year Composition is, in fact, the only required course for all incoming students at every public university in the United States. Why? It may surprise you to learn that the answer is complex and many historians–such as Robert Connors, James Berlin, Susan Miller, Victor Villanueva and Kristen Arola, Sharon Crowley, Ryan Skinnell, and Tyler Branson–have written on the subject across multiple decades. A too-short, over-simplified answer is that university teachers and administrators recognized long ago that to have the best chance of success in college, students must be able to read, analyze, and write texts well. But here is the big secret: you will not leave FYW at Oklahoma State as an expert writer, nor will you leave FYW fully formed and capable of writing well in all genres and situations, even academic. However, all students everywhere are capable of becoming excellent writers, and all students who write often and work at their writing with intent will improve. Our big, broad goals in your FYC classes are to help you improve in your writing (often this means becoming more confident in your writing, or even just dreading writing a bit less) and for you to leave the course having developed some good habits to help you improve throughout your life. Much like exercise, if you take one aerobics class you will not be transformed into an expert gymnast now and for all time. However, if you keep working at it consistently over time, you can become a master of your craft.
A major secret to writing success is simple: find ways to enjoy it more and fear it less. Think about it. If you dread that aerobics class, you will find reasons not to go. You will not like everything about writing (I definitely don't) nor will you like everything about your FYC class. Find the joy where you can find it and lean into that. Great writing comes from people who take great joy in writing. Moreover, all writers, like all athletes, will improve with respect to the work and dedication they apply. Both also improve better and faster with an expert helping them along the way. Think of your writing instructor as that expert guide and trainer. They are here to help you exercise your writing, which may include exorcizing some writing demons (think of procrastination and binge writing). I promise you that your writing instructor loves writing, and they want to share that joy with you. We are here to help.
Who Teaches Writing?
The above question serves both as the title and the central organizing concept of this book. As you will see from the various readings in this textbook and your time within the First-Year Writing program at Oklahoma State University, a great many professionals across a range of academic disciplines teach writing with a variety of approaches. While every course in FYC has the same 4 basic units and uses a common textbook, those units are intentionally described broadly. As you skim, you will note Who Teaches Writing is divided into four sections; these sections correspond to your four major units in English 1113/1313 and include a range of short essays to teach you concepts to help you with your assignments. Who Teaches Writing uses a wide range of approaches in order to maximum the ability of your instructor to teach writing from a position of their own expertise and to maximize the ability of students to approach learning to write from their own interests. Your instructor may be an expert in Shakespearian literature, or feminist methodologies, rhetorical theory, or something whack-a-doo like videogames (that would be me, by the way) but they all know how to write and how to teach you to write better and more effectively. The English Department at OSU has five program areas (Creative Writing; Film & Media Studies; Linguistics; Literature; and Rhetoric & Writing Studies) and our instructors likewise have a diverse range of voices and expertise. This is the fundamental strength of our FYC Program. Scholarship on student success and retention is clear on this fact: all students, regardless of their backgrounds, beliefs, and political persuasions, benefit when they hear from a wide range of voices and write often and with range. This textbook and the curriculum to which it corresponds provide that.
If you take some time to browse the textbook, you should notice that each chapter provides one possible answer to the book's title. Who Teaches Writing? In one chapter, Dr. Sarah Beth Childers shows us how "A Memoirist Teaches Narrative." In another, Dr. Anna Sicari shows us how "A Feminist Teaches Writing through Institutional Ethnography." Dr. Charlotte Hogg explains how "A Former First-Year Comp Student Teaches Narrative," and Dr. Josiah Meints diagrams how "A Sports Rhetorician Teaches Evaluation." In short, these chapters collectively illustrate what I believe is the answer to the book's central question. A lot of people teach writing in a lot of ways. By foregrounding that fact, our FYC courses maximize the range of concepts and types of writing to which you are exposed. While they introduce you to a lot of concepts, these chapters are intentionally as jargon-free as possible. Any important terms are introduced and defined for you in chapters of about 10 pages. We made these chapters as readable as possible because, well, we want you to read them, and we know managing time as a first-year student can be a challenge. While we have scholars from 7 different universities in the book, many of our contributors are right here at Oklahoma State. Google them. Swing by their office. As you read their chapters, search hard for something you like, something that makes sense to you, something that you find fun or interesting. Start from there. Write a lot. You will improve. Hey, and how's this? If this textbook doesn't help you become a better writer, I will personally refund your money. Guaranteed.
Open Education at Oklahoma State University
            Who Teaches Writing is an Open Educational Resource (OER). This means the book is free (It was a good joke, right?). When I became Director of FYC in June of 2020, one of the first things I did was survey instructors and students to learn what they thought of the program. At that time, the program had two commercial textbooks students were required to purchase, and we were in negotiations with another textbook company to add a third. Many things became clear when I talked to students and instructors, but two points are relevant here: 1) instructors hated using the textbooks; 2) students hated the textbooks and generally did not do the reading. I don't think that is because instructors or students are lazy; I think it's because commercial textbooks generally aren't very good. The reason for this is they, as products that need to be marketed and sold for profit, need to be as applicable as possible in as many contexts as possible. In other words, the textbooks we were using stood the best chance of being profitable if they were equally as useful at OSU as they would be at OU, or UC Davis, or NYU. See the problem? Even though many commercial textbooks are quite good, by being applicable in so many contexts, they are never as good as they could be in any specific context. This book was built by and for the instructors and students in this FYW program right here. Moreover, when we find problems, we get to update it as you go (none of that, "Do I have to purchase the third edition, or can I get by with the second edition?").
So that's a reason to embrace Open Education: the textbooks are better. Here is another. Education is both a right for every human being and a responsibility for every democratic nation. Speaking as a 90's child now staggered by student loan debt, I can tell you with certainty you are already paying more than enough for your education, and textbooks for FYC should not add to that burden. All told, if you calculate the three textbooks previously in use and under consideration, students were spending just under half a million dollars per academic year on commercial textbooks. This for textbooks that instructors hated and students did not read. Not the best investment, at least not for us. I believe all of you have a right to pursue education as far as you wish, and a small way we can help enable that is to remove as many barriers to entry as possible. I was a first-generation college student. I grew up on a farm in Mississippi. Both of my parents had to drop out of high school for work, and none of my siblings were able to pursue higher education. When I arrived at my first undergraduate institution (I bounced around quite a few before I managed to graduate) I was lost and straight up broke. I dropped more than one course simply because I could not afford the textbooks. Many of your instructors have similar stories to this. For our part, in the FYW program, we are committed to removing the cost of commercial textbooks as a barrier to your education.
A Few Words on Grammar & Grading
            Many people—including students, parents, and even faculty from other departments or upper administration—are surprised to discover how little attention grammar and usage are given in FYC courses. For people who are not trained in the study and teaching of writing, a common assumption is that students should "learn the basics" of sentence-level grammar, and then build to paragraphs, and then on to lengthier manuscripts, such as essays. On the face of it, this assumption makes a lot of sense, but research in my field—Rhetoric and Writing Studies—has consistently shown that, contrary to what might seem like common sense, this assumption is flatly wrong. In fact, college-level writers tend to improve most when they focus most on writing a lot of words in a lot of situations focused on "macro level" issues such as theme and organization. It tends to be the case that more experienced writers benefit from overt grammar instruction. This reminds md of a quote made famous by astrophysicist Neil DeGrasse Tyson: "The universe is under no obligation to make sense to you." Language is really old and has been developing for quite a long time. It is often the case that what we learn about language through research does not intuitively make sense.
So why do experienced writers tend to benefit from overt grammar and usage instruction, but not beginning writers? While grammar and usage are often talked about as "the basics" or the "nuts and bolts" of writing, it is better understood as the fine artistic styling and finishing touches of good writing completed by experts. Think of it in terms of another artistic medium, such as sculpture. If you were going to your first college level on sculpting, do you imagine your instructor would have you start by sculpting the tiny details such as the veins on the clenched hand of Michaelangelo's David? Of course not, because you are so inexperienced with sculpting that you don't yet really understand how to chip a chunk of marble into the general shape of a human body. Think of "macro level" writing concerns like organization, theme, and content as the general shape of the human body, and think of "micro level" concerns such as sentence-level usage and style as the delicate details on David's hand. With time and dedication to your craft, you will be able to sculpt those veins, but it need not be today. Focus first on shaping the body of your writing into the general shapes and structures you imagine.
This is also a reason that many of the FYC classes you take at Oklahoma State utilize what we call "labor-based assessment." This is another way of stating that we grade you based on the amount of work you do on your writing (such as pages produced, words produed, numbers of revisions and reflections completed) rather than the overall "quality" of your writing at this stage. If you're concerned about making a perfect, "A-level" sculpture the first time you approach a block of marble, you may never build up the nerve to strike the first blow. All you need to do right now is write, and write a lot. We grade you based on how much work you do because the amount of work you do on your writing will directly reflect how much your writing improves, and that is the goal.
Why not get started now? If you're reading this and taking an FYC course this semester, sit down and write for half an hour. Write down three things you would like to improve about your writing, and then write 1-2 paragraphs reflecting on why you set those goals.
---
An interactive H5P element has been excluded from this version of the text. You can view it online here:
https://open.library.okstate.edu/whoteacheswriting/?p=22#h5p-1
About the Author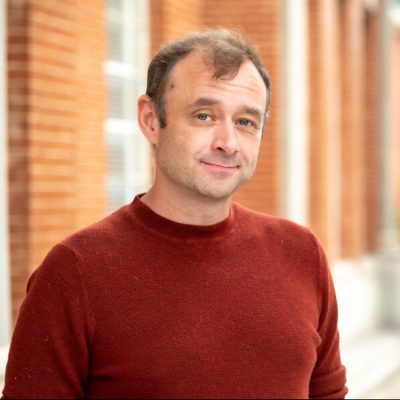 Dr. Joshua Daniel
Oklahoma State University
Dr. Joshua Daniel (formerly published under Joshua Daniel-Wariya) is an Associate Professor of Rhetoric and Writing Studies at Oklahoma State University and he directs the First-Year Composition Program. His research is on the persuasive capacities of games and software, and his work has appeared in journals such as Games and Culture, Computers and Composition, and Rhetoric Society Quarterly. He is also a tremendous Twitter follow, and you can contact him there through @FoxyJoshyD
OSU Libraries and Oklahoma State University believe that education must be available to everyone; this means supporting the creation of free, open, and accessible educational resources. We are actively committed to increasing the accessibility and usability of the textbooks we produce.
Accessibility features of the web version of this resource
The web version of Who Teaches Writing has been designed with accessibility in mind. It is our goal to optimize the resource for people using screen-reader technology. Content should be navigable using a keyboard, and links, headings, and tables should be formatted to work with screen readers. All images considered essential include alt-tags. Information is not conveyed by color alone, and there is an option to increase font size. (See tab on top right of screen titled, "Increase Font Size.")
It has been optimized for people who use screen-reader technology.

all content can be navigated using a keyboard.
links, headings, and tables are formatted to work with screen readers.

All images in this guide are screenshots that are considered non-essential as they are described fully in the text. As such, they do not include alt tags.
Information is not conveyed by color alone.
There is an option to increase font size. (See tab on top right of screen titled, "Increase Font Size.")
Other file formats available
In addition to the web version, this book is available in a number of file formats including PDF, EPUB (for eReaders), MOBI (for Kindles), and various editable files. Here is a link to where you can download this book in another file format. Look for the Download this book drop-down menu to select the file type you want.
Known accessibility issues and areas for improvement
While we strive to ensure that this resource is as accessible and usable as possible, we might not always get it right. Any issues we identify will be listed below. There are currently no known issues.
List of Known Accessibility Issues

| Location of Issue | Need for Improvement | Timeline | Work Around |
| --- | --- | --- | --- |
| | | | |
| | | | |
Accessibility standards
The web version of this resource has been designed to meet Web Content Accessibility Guidelines 2.0, level AA. In addition, it attempts to follow all guidelines in Appendix A: Checklist for Accessibility of the Accessibility Toolkit – 2nd Edition.
Let us know if you are having problems accessing this guide
We are always looking for ways to make our resources more accessible. If you have problems accessing this resource, please contact us to let us know, so we can fix the issue.
Please include the following information:
The location of the problem by providing a web address or page description
A description of the problem
The computer, software, browser, and any assistive technology you are using that can help us diagnose and solve your issue

e.g., Windows 10, Google Chrome (Version 65.0.3325.181), NVDA screen reader
You can contact us by completing this web form or by sending an email to kathy.essmiller@okstate.edu.
This statement was last updated on February 20, 2021, by Kathy Essmiller.
"Accessibility Statement" by Kathy Essmiller is licensed CC-BY and is adapted from "Accessibility Statement" in the BCCampus Pressbooks Guide by Lauri M. Aesoph licensed CC-BY. Language has been customized for local use.
When I was in graduate school at Texas Christian University, I attended a talk by Dr. David Parry called "Ending Knowledge Cartels." It was a version of a talk he had given many times at academic conferences like Computers and Writing, and it is essentially an extended description of the privatization and monetization of general rhetorical knowledge by commercial textbook providers and academic journal distributors. Parry argues that, like pharmaceutical companies, knowledge cartels have taken what should be a basic human right, access to knowledge, and have hoarded it. Like all cartels, they arrive early and often and are always here to take their cut. The completion of this book fulfills a basic dream of mine since arriving at Oklahoma State University in August of 2014: to use my job as a platform to cut them out, broken limbs or not. Together, we have made an FYC Textbook bigger and better and more innovative than profit can imagine. We offer it to you for free. Please accept.
There are too many people to thank, but a few cannot go without notice. To Holly Reiter. If there is a kinder, more generous, more decent person at this university, please introduce us. To Matt Upson, just a real cool guy, who gave $10,000 from his own endowment so we could pay contributors for a book that would never be sold to or create profit for anyone. To the great Kathy Essmiller, the knower and doer of all things. You have made this book possible.
Most of all, this book is for all the FYC students trying to find a way into the university, to the FYC instructors just trying to help those students learn to love writing a little more and a little better. To all the Directors of FYC and Ph.D.s in Rhetoric and Composition: may we never again attend a Norton party.
To A. You are everything. Life is more joy than I ever imagined.
About the Author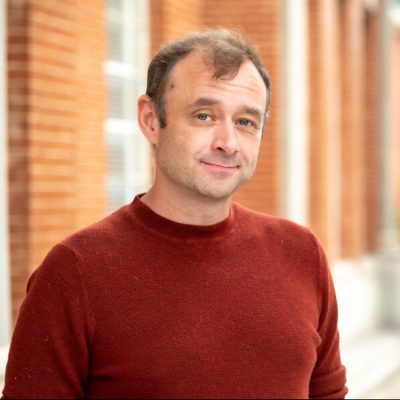 Dr. Joshua Daniel
Oklahoma State University
Dr. Joshua Daniel (formerly published under Joshua Daniel-Wariya) is an Associate Professor of Rhetoric and Writing Studies at Oklahoma State University and he directs the First-Year Composition Program. His research is on the persuasive capacities of games and software, and his work has appeared in journals such as Games and Culture, Computers and Composition, and Rhetoric Society Quarterly. He is also a tremendous Twitter follow, and you can contact him there through @FoxyJoshyD
OpenOKState Spotify Playlist
4
Dr. Kathy Essmiller
Friends, I have included this chapter as an example of the instructions provided the authors of this text as we began the project. It has been customized for this project, and for #OpenOKState, but you are welcome to take whatever parts of it are useful!  ~Kathy Essmiller
What You Will Learn in this Chapter
This chapter will serve as a quick-start guide for authors creating content in ENGL 1113 Draft. You will discover the chapter template provided for your chapter, explore how to create content within the provided template, and will have the opportunity to practice adding images and other media to your chapter.
Attribution
Dashboard
Media Library
Quick-Start Overview
Your presence here indicates you have successfully authenticated and signed into your OpenOKState Pressbooks account and navigated to the dashboard of ENGL 1113_Draft. If you got here by accident, or aren't sure that you can replicate your navigation, feel free to email kathy.essmiller@okstate.edu or text Kathy at 405-641-2401. The library's goal is to partner our resources and competencies with your scholarly expertise so that you can share your work with others. If the platform is frustrating AT ALL, please let me help. Your gig is to be an English Scholar, mine is instructional design and digital resources. Text or email me before you want to cuss or cry, let me help keep this a joyful experience for you. The sections below will include the bare bones of what I think you will need to get started. For a deeper dive, see the OpenOKState customized edition of Publishing with Pressbooks.
If you are curious about OER and how we are working to support a culture of open at OSU, feel free to browse Exploring Open. Do not feel at all obligated, just if you are curious.
Creating Sub-Headings
Screen-reader accessibility is baked into the platform. If you are using additional subheadings or other formatting techniques to help communicate your content, please do so using the toolbar at the top of your chapter page. This will protect that functionality. The main headings in each of your chapter templates have been created using Heading 1. If you wish to create subheadings, select a format other than Heading 1 from the dropdown menu in the top left corner of the toolbar. For instance, the subheadings in this example chapter are Heading 2. I populated the chapter with Heading 2 subheadings (as well as further subsections from my chapter outline) prior to adding or creating the bulk of my content. Haha that's not true I did not make a formal outline. But I did create the subheadings before writing the rest of the content.
Heading 3
This section's heading shows what Heading 3 looks like. The platform automatically adds space between paragraphs. I don't always feel like I trust it and love how it looks when I am in editing mode, but once I switch to preview mode I end up pretty happy with it, so I guess we can trust the coders. You can preview the content by clicking on the 'preview' button in the 'Status and Visibility' box on the right side of the page when you are editing your chapter. The red 'Save' button is in that box, as well. Hopefully you have already found it. Use it frequently, unless your life feels entirely too peaceful and productive and you need the zing that comes from losing your work.
Examples of Headings 4, 5 and 6 are below. Obviously, I am not using them correctly, which makes me nervous when writing for an audience of English faculty, but you are already probably so distracted by my casual and improper use of commas that the heading thing doesn't even register. Sorry about that.
Heading 4
Heading 5
Heading 6
Adding Content
There are several ways to add your content, some of which enable a smooth workflow and some of which provide exciting challenges on down the road. If you are comfortable working directly in this platform, that is fantastic. Another option is to copy-paste your work from Google Docs or from Word. If you are choosing that option, please clear all formatting from the content before you copy-paste it into this platform. The formatting code (bold, italics, styles and headings) from Docs or Word can create accessibility issues for screen readers, so it's best to bring the content over 'clean' and use the formatting tools in Pressbooks to achieve the look you want. Likewise, a straight-up import from Word brings lots of extra code that can cause problems. Email or text me if you run into issues with this, or if what I am saying doesn't make sense to you. Or if it sounds overwhelming. I can help.
See the links below for information about how to include other structural elements, links, images, etc. Be sure to track attribution as you go. I have linked an attribution tracker in each of your chapters, but we will remove that in the final edition of the text. I just want to make it super easy for you to track attribution, and super hard to make an excuse for not having tracked attribution. 🙂 If you can't figure out the attribution for your resource, contact me (Kathy) early on, and I will help track it down. I actually really like doing that early in the process, it is a fun puzzle/scavenger hunt to me. My feelings about doing it late in the process are quite different.
Adding Other Users
Each chapter is currently set to offer edit access to all of the ENGL 1113 authors, Josh, and by default because I am the platform administrator, me (Kathy). You may, however, wish to provide access during the content creation process to someone else for purposes of peer review, further collaboration, or because you have convinced them to put your content in for you, lol. If the person to which you wish to grant access already has an OpenOKState Pressbooks account, you should be able to add them at the desired level following the instructions described at this link. If they do not already have an account, email kathy.essmiller@okstate.edu to request an account for them. Include their name, email address, why you want them added, and at what level you want them added, and I will make it so.
Discussion Questions
This would be a list of 3-5 open ended discussion questions, thought of primarily for in class discussion questions or for students to write about as part of a homework assignment. I am not adding discussion questions yet, until we decide if you all want them numbered, bullet point, etc.
---
---
Sandbox
You each have edit access to this chapter. You are welcome to use this section to practice adding media, if you are nervous about experimenting in your own chapter. I have made another copy of this chapter, so if it gets broken it's okay.
---
Scratchpad and additional notes
I usually keep a scratchpad at the bottom of the page when I am creating content directly in Pressbooks. Gives me a place to save stuff without risking formatting I am happy with. I mean formatting with which I am happy. Sorry again.
You may have noticed the 'visual' and 'text' tabs at the top right hand corner of the text editing toolbar. The visual option is a WYSIWYG (what-you-see-is-what-you-get), and the text option shows you a bit of the code. If you are accustomed to code, you might find some satisfaction working in the text tab to nuance your work. You may find there are things, code-wise, that don't work the way you want. I think that is because of the accessibility baked into the platform. They make it very hard for us to break that by mucking around in the code.
About the Author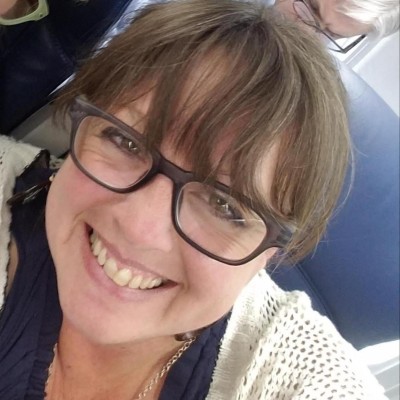 Dr. Kathy Essmiller
Oklahoma State University
Kathy's background is in music education, where she enjoyed over fifteen fantastic years making music with MS/HS band students (including her own two kids). She is an Assistant Professor/Coordinator of OER at Oklahoma State University, and was a 2019-2020 OER Research Fellow. She holds Masters degrees in trumpet performance and educational technology, and a PhD in Learning, Design and Technology from OSU.